There's a great deal of aesthetic pleasure to be found in a beautifully-bound document. But choosing the right style can be a daunting task. Especially when your bookbinding knowledge (or lack thereof) shrouds your imagination.

Intimidated? We'd be surprised if you weren't.
That's why we've crafted this helpful resource for designers, photographers and the like who are looking to gauge a better understanding of what's available. Time to acquaint yourself with the fundamentals of post-press perfection, so you can pay closer attention to your designs. Future you will thank you.
1. Saddle stitch binding
When there's brevity to be bound, there's saddle-stitching to be found. Better suited to smaller documents, saddle-stitching is one of the simplest ways to secure printed sheets of paper folded in half. Consider it a professional iteration of stapling that appeals to any cost-effective booklet, brochure, catalogue, program or magazine.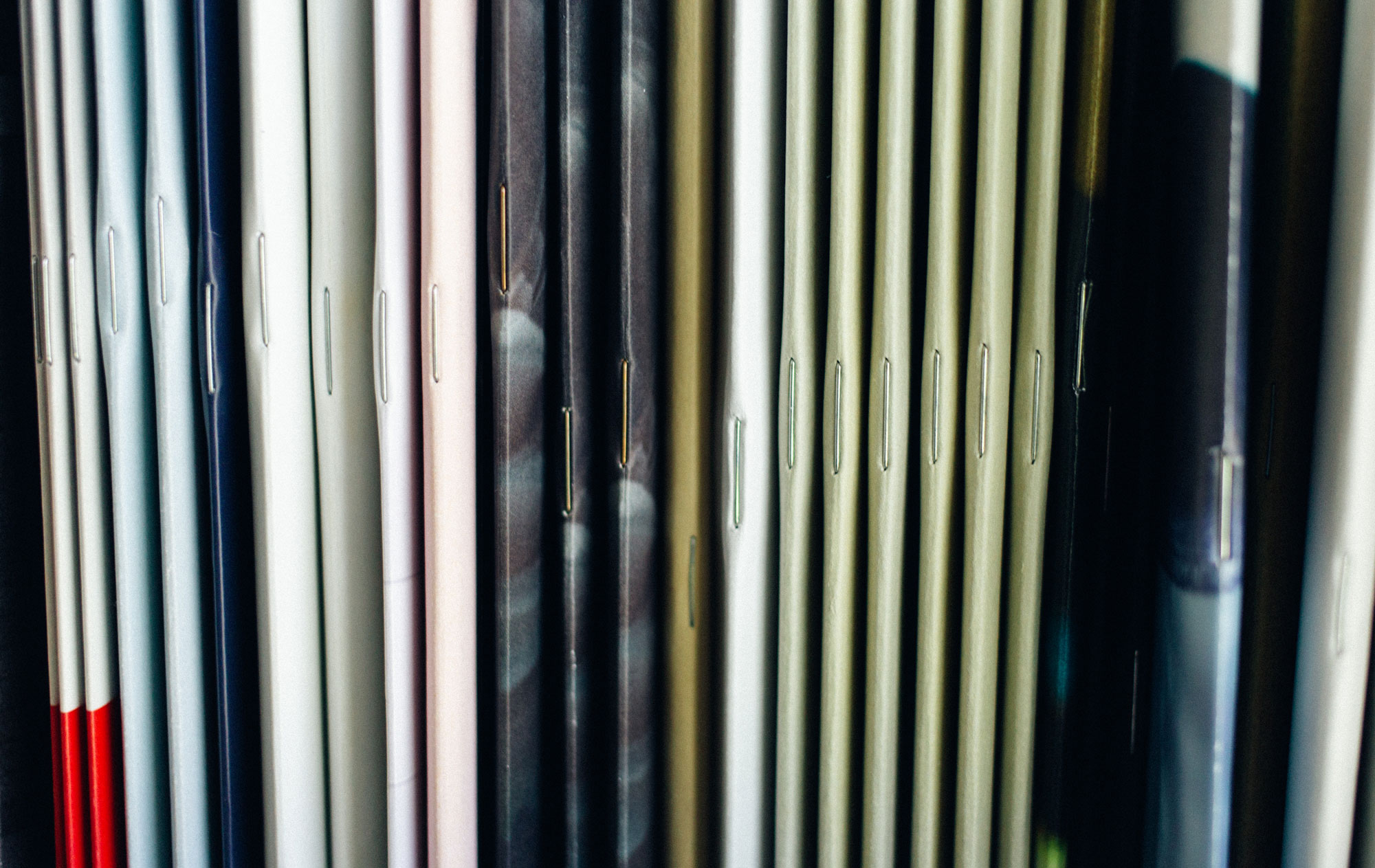 Documents bound with saddle stitch.
2. PUR binding
What gives a paperback its clean PUR-fect edges? A process called PUR. You may have heard the term 'perfect binding' and wondered what the difference is. Both use a paperboard or heavy cover stock to attach pages to the spine with glue. But while the two applications are similar in concept, a PUR-bound document uses a special kind of adhesive known as polyurethane reactive (hence where it gets its name from).
If you're looking to print a paperback, annual report or premium project, PUR makes for a strong, clean spine that's durable enough to hold heavier stocks.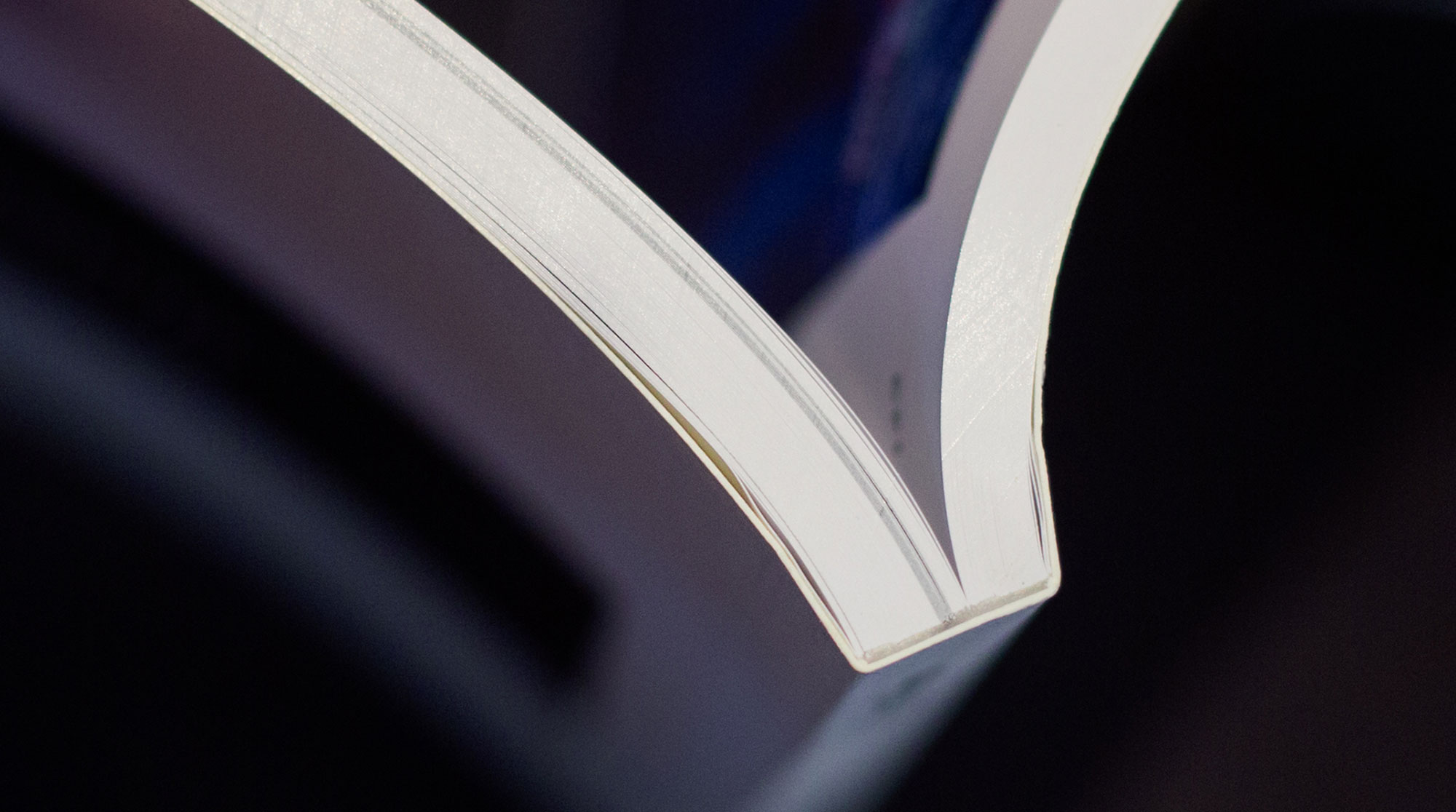 Book bound with a PUR (perfect) binding

3. Hardcover or case binding
There's nothing quite like a beautiful book that's been bound to remarkably high standards of quality. Either section sewn or bound from single sheets, this sturdier option will ensure your book becomes an alluring addition to any coffee table or bookshelf. While a hardcover or casebound book can be more expensive to produce, they do boast a longer shelf life and much higher value.
If you're planning to sell your work, there really is no substitute. Books bound in a rigid cover and finished with material such as vellum or buckram are often produced with a hollow back and visible joint so as to open more freely.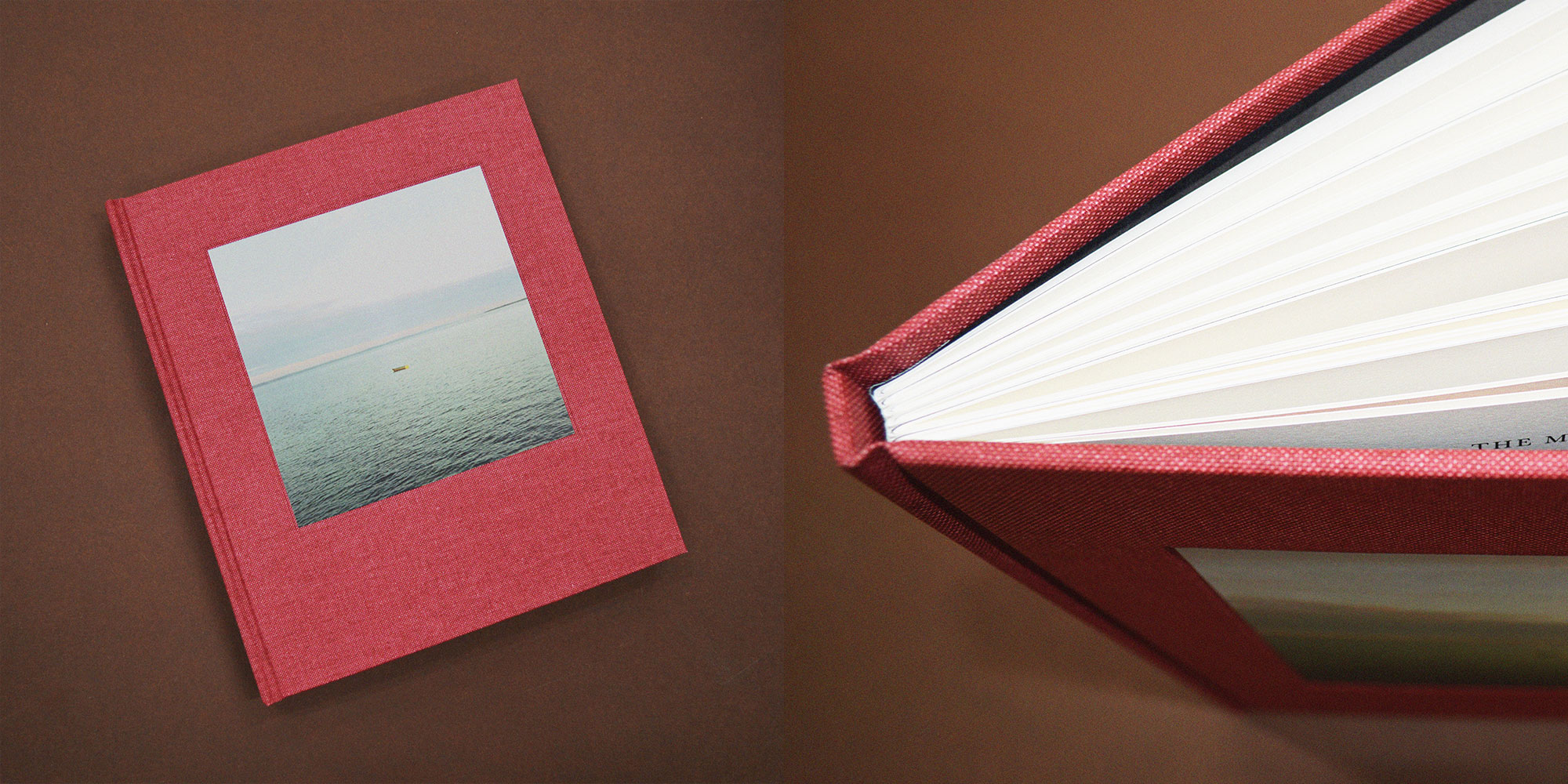 Case bound book for photographer Ollie Hodgkins covered with buckram cloth.

4. Singer sewn binding
Collating pages for a creative project—looking for something a little whimsical? Singer sewing is a beautiful, traditional method of bookbinding where a single thread (of any colour) is stitched through folded pages at the spine. With no adhesives or staples, this secure binding method is typically used on books with a single section. The stitching can either be visible on the outside or tucked neatly away on the inside.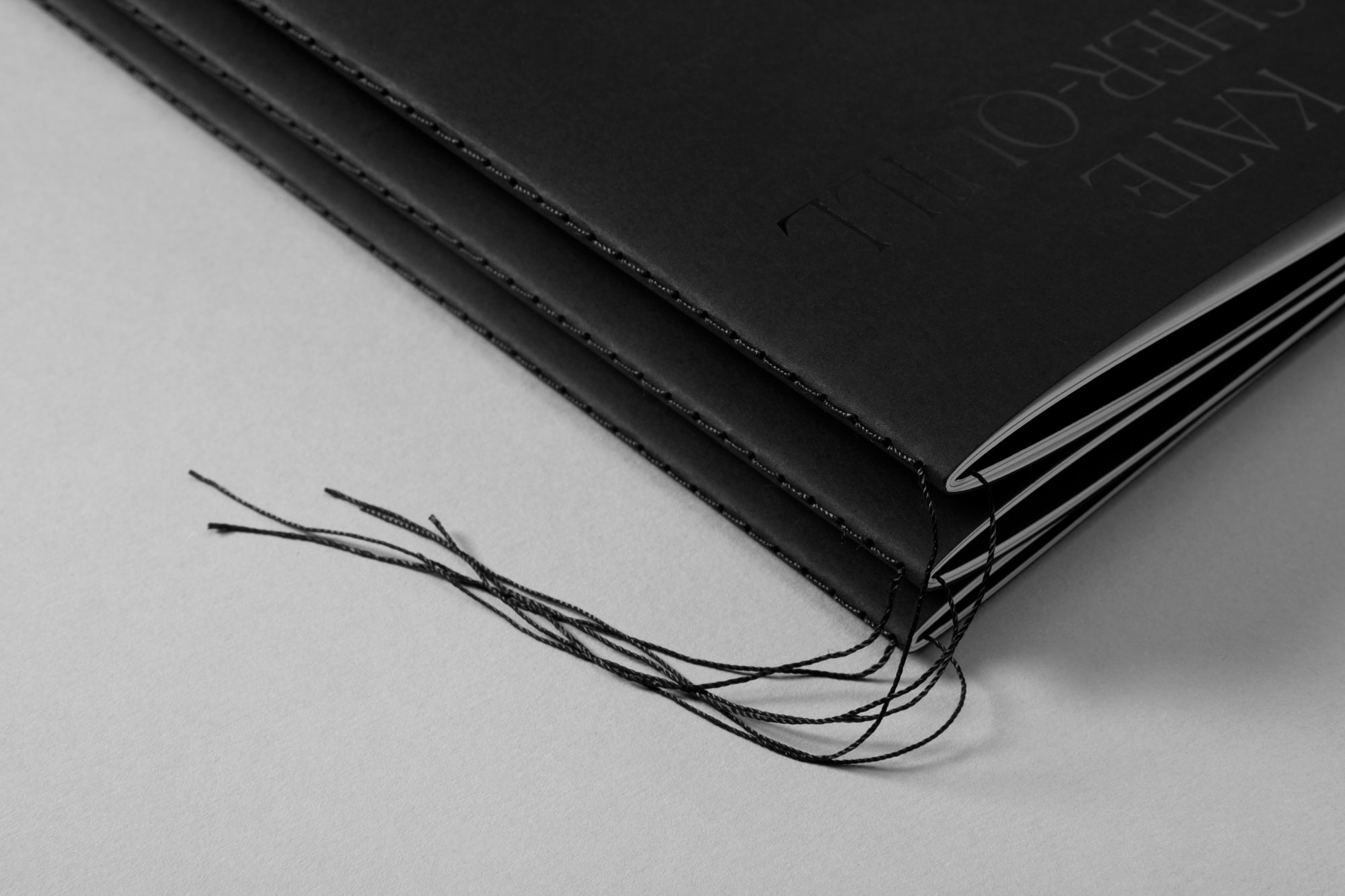 Singer sewn book designed by Athlete for Kate Disher-Quill
5. Section sewn binding
As the name would suggest, this type of binding is sewn in sections along the spine and glued together for a sturdy finish. Ideal for small and large documents, section sewing enables you to lay your book out flat regardless of its page count.
6. Coptic stitch binding
Like section sewing, you can lay your documents flat with coptic stitching. Although this method is similar in form, a coptic stitch bind offers a non-adhesive finish. Regardless, this type of binding offers a flexible spine without sacrificing strength. It's an option that allows you to open up your book completely without affecting its integrity over time.
7. Wiro, comb or spiral binding
The quintessential method for commercial documents and school exercise books that involves a simple loop wire and hole puncher. But don't underestimate the power of a wire, comb or spiral bind. This option is extremely versatile and popular to boot.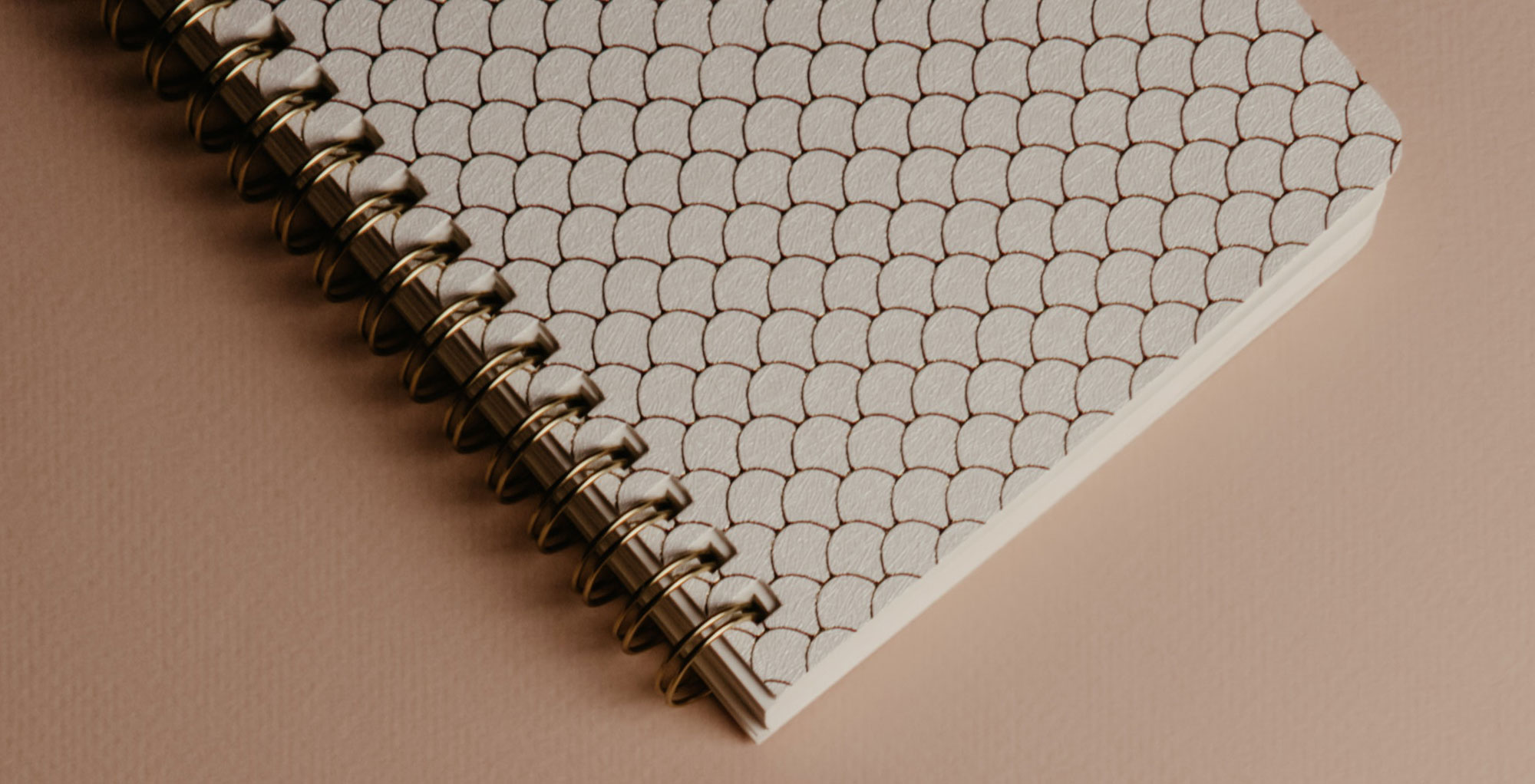 8. Interscrew binding
Also known as Chicago screw binding, this exceptionally durable print finish is a great option for any portfolio or office document. Holes are drilled with the utmost precision and fixed with binding screws between two covering boards. This style of binding is a cleaner looking alternative to ring binding and still gives you the ability to add or remove pages as needed, which is great for restaurant menus and portfolios.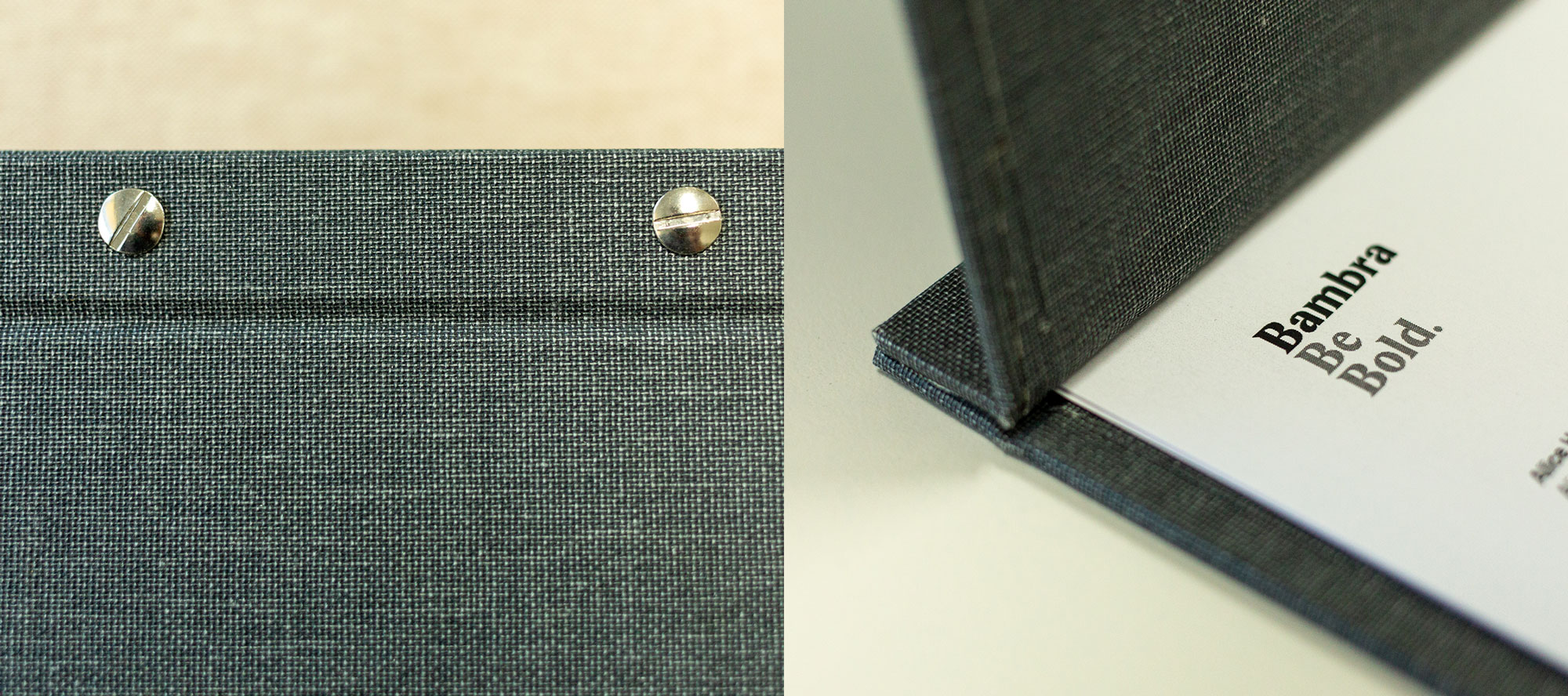 Interscrew or chicago screw binding
9. Japanese binding
A traditional softcover style of binding in which single leaves are laced together with a needle and thread, with the exposed lacing treated as a feature of the style. This method does not allow the book to be laid flat, but its detail and charm adds heart to any journal or notebook.
10. Solander boxes and slipcases
Solander boxes and slipcases are the ideal way to store your archive and/or precious material. It's a luxurious form of packaging that can be custom-made to your exact requirements. Choose from a variety of styles (shoebox, matchbox, veranda box, clamshell box or slipcase) and embellish your logo or title with flashy foil or debossing.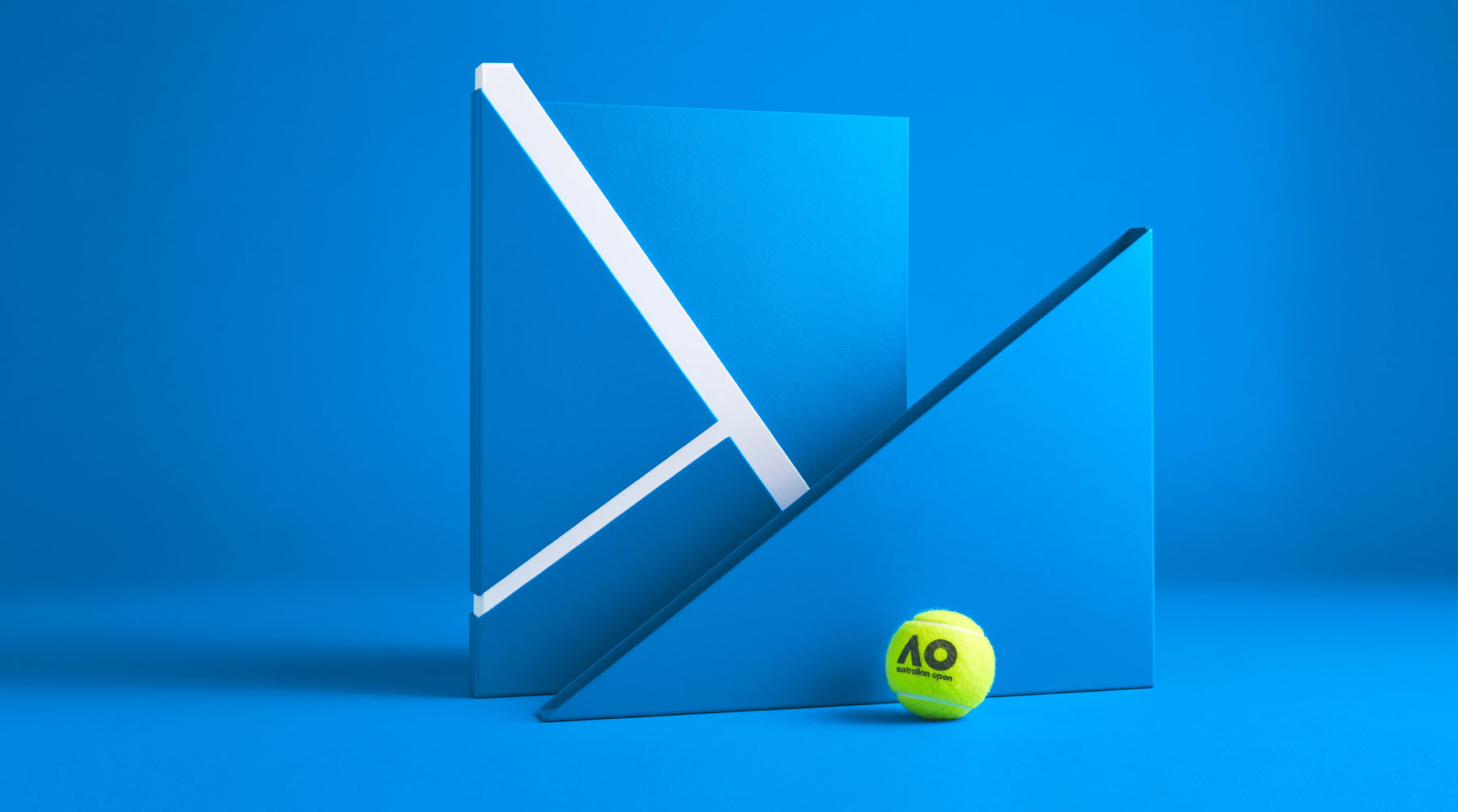 Book with slipcase designed by SDWM for the Australian Open